The lifeblood of international trade is road infrastructure. Good road infrastructure is essential to a country's competitive edge in exports and imports, and a lack of it may hinder commerce and raise freight and transport costs.
The road network in India accounts for 90 percent of passenger travel and roughly 65 percent of freight traffic. Due to the vast expanse of the Indian subcontinent and the lack of inland water transport, all imports and exports are carried out across great distances via road. The need for multi-axle Commercial Vehicles that transport containers to and from ports has been expanding for the past two decades. Road infrastructure has a multiplier effect on a country's GDP development, including exports and imports.
World Bank LPI (Logistics Performance Index)
The LPI is a benchmarking tool to measure the performance of trade logistics. The LPI 2018 makes comparisons across 160 countries.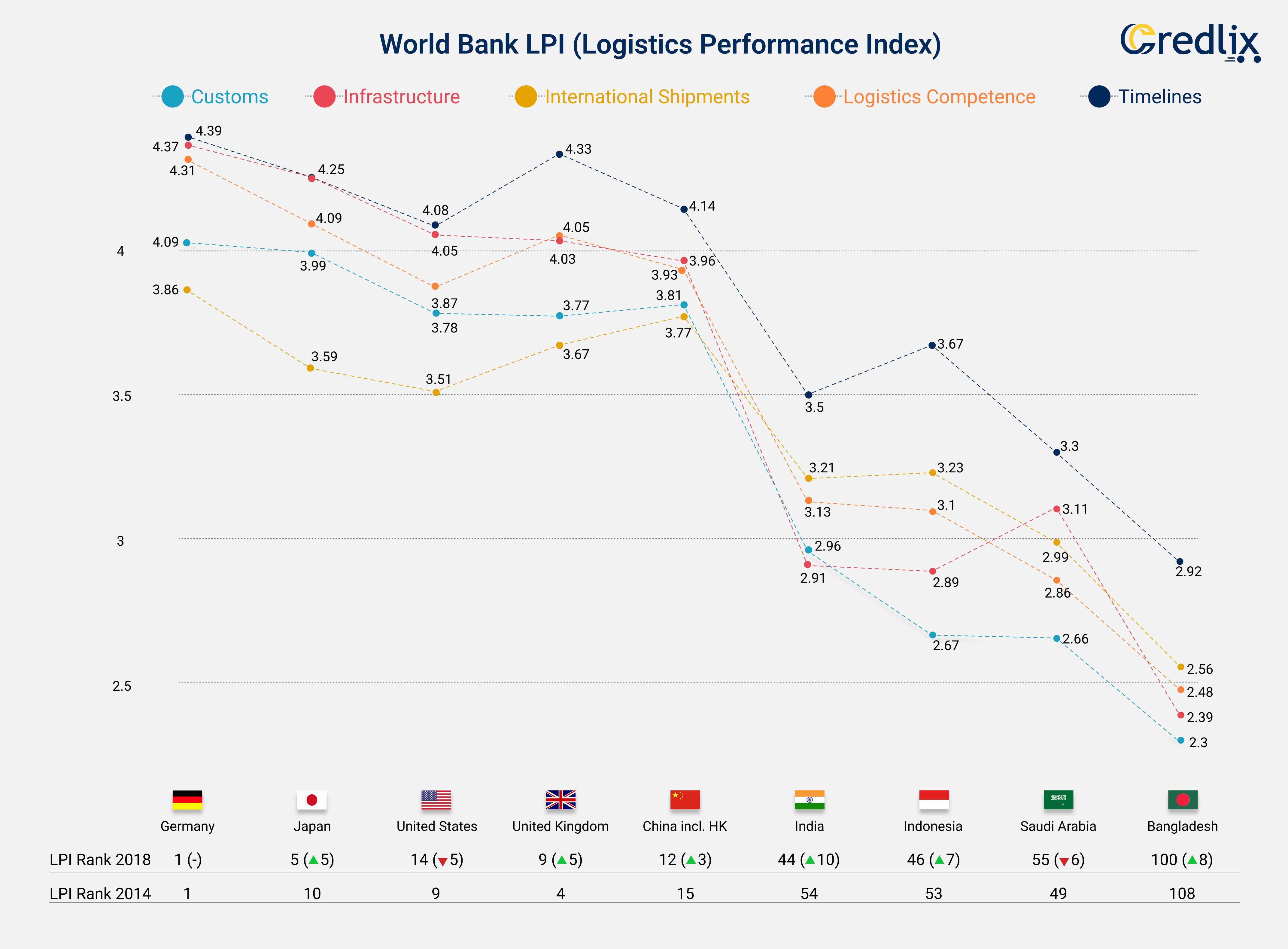 scale of 5 /5 as the highest and 1 as the lowest.
This report was prepared by the World Bank's Global Trade and Regional Integration Team in the Macroeconomics, Trade and Investment Global Practice. [source: https://lpi.worldbank.org/]
These 2018 rankings provide insights into India's overall logistics and infrastructure ranking compared to other countries from export and import aspects. India ranks 44 (compared to 54 in 2014), Germany at the top, whereas China is way ahead at 12.
Average Time to Reach Ports in India
Over the years, the arrival times of trucks with shipments and logistics of commodities at ports via roadways have improved dramatically. However, there is still a lot of work to be done to decrease stoppages and delays. The government also encourages truck drivers to replace their outdated, inefficient trucks with newer, more fuel-efficient ones. It will prevent engine problems and allow trucks to run smoothly for extended periods, allowing for better logistics. Stoppage times and delays have decreased due to the e-way bill and GST tax collection at state crossings, which has also resulted in lower fuel use. 
Growth in Last Decade in India
The Golden Quadrilateral, a key milestone project under the NHDP (national highway development project), was completed in 2012, uniting India's four metro cities of Mumbai, Delhi, Kolkata, and Chennai.
The development of roads has been prioritised in India during the 2000s, resulting in a high rate of road construction in the recent decade. In the financial year 2016-19, the road network was reported to have grown at a pace of 21.44 percent.
The Bharatmala project was launched in 2017 to construct 83677 kilometres of new motorways at the cost of Rs. 5.35 trillion. The country's goal is to build 40 kilometres of road every day.
Tracking and Tracing
It is vital to digitalise MSMEs, which account for more than 45 percent of India's exports and imports. In addition, intermediates (CHAs, Freight Forwarders, CFS/ICDs, and Ports) who catalyse the export and import of goods must be equipped with technology.
Import and export need the digitisation of logistics and documents connected to freight transit. To increase Logistics Performance, GPS Trackers, Electronic Documentation, and Door-to-Door Cargo Tracking are essential.
Impact of Pandemic
While 2020 was an unusual year that slowed the expansion rate, the current second wave of COVID19 may negatively influence road-building once again.
Hopefully, this is only a blip on the radar as India's logistics infrastructure improves and the country moves closer to a $5 trillion economy with $1 trillion in exports.